"All for One and One for All", this is our motto
Housemaster: Mr. Manu Mehrotra, MMR, MSc
Assistant Housemaster: Mr. Nitin Chauhan, NTC, M.P. Ed.
Dame: Mrs Anuroop Jouhal, (ARJ) BA
House Captain and Prefect Nominations 2014
House Captain: Tanishq Agarwal
Prefects: Vrindam Nagpal, Aditya Gupta, Vinayak Chaudhary
Appointments for 2014
Boy- in-charge of Cycling is Vedant Agarwal from Oberoi House
Percussion Leader – Aditya Gupta (692 O) 
Secretary, Music Society – Vrindam Nagpal (638 O) 
Boy-In-Charge, Trinity Music Examinations – Madhav Goel (136 O) 
Cricket – Rishav Raj Das (664-O) 
Dosco's dazzle at the Raffles Institute of Mathematics Challenge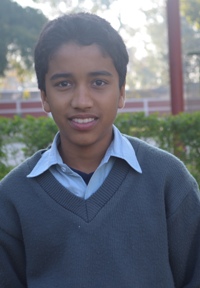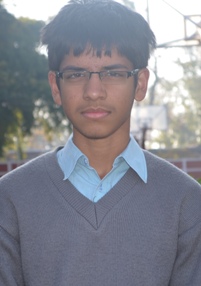 Congratulations to Vaibhav Chandak from Oberoi House and Kanav Agarwal from Tata House who have passed round one of this prestigious event which say 3,500 pupils from all over India compete. They have sat the second round in Chennai on 10th November and gained a ranking of 35th and 67th respectively in the top 100. 
IPSC Athletics and District Athletics Competition Results 2013

In the U19 category, the school team performed at the IPSC Athletics Competition from 8th to 10th November 2013.
Siddarth Sarin from Tata House, Varun Sinha from Hyderabad House and Kartikey from Hyderabad House performed well for the school.
At the District Athletics Competition held in the RIMC on 9th and 10th November a young team gained several silver medals and one gold.
The results were as follows:
Silver medals went to:
1.     Suyash Bishnoi from Hyderabad House in the U20 High Jump
2.     Yasser Iqbal from Tata House in the U20 800 metres
3.     Yash Kuldeep Mishra from Hyderabad House in the U16 High Jump
4.     Arjun Kamdar from Oberoi House in the U18 High Jump
5.     Pratyush Bharti from Kashmir House in the U16 Shot Put
Congratulations to Arunabh Utkarsh, from Oberoi House who won Gold in the Discus event in the U16 category.   
Bronze IAYP Awards 2013
 Congratulations to:
1.      Rudra  Srivastava from Kashmir House
2.      Codanda. C. Chengappa from Kashmir House
3.      Atrey Bhargava from Oberoi House
4.      Siddarth Goel from Hyderabad House
5.      Raghav Kumar from Hyderabad House  
Boys achieve their Colours
Congratulations to the school Music Captain Hamza Khan, from Jaipur House who has been awarded Music Colours. Hamza is a Hindustani Classical violinist and is a North India Trinity Topper.
Drama Colours are awarded to:
1.      Sachin Mehra from Hyderabad House
2.      Mihir Kiran from Kashmir House
3.      Jai Ahuja from Kashmir House
4.      Aashim Bansal from Kashmir House
5.      Sahil Chaudhary from Jaipur House
Congratulations to the following boys who were re-awarded their Drama colours for outstanding contribution to Hindi theatre in school:
1.      Ritesh Shinde from Jaipur House
2.      Malini Malaviya
Devesh Sharma, from Hyderabad House also gets Drama colours for the second time.
For the first time Arjun Sharma from Tata House  also is awarded Drama colours.
Art Colours:
These are awarded to:   
1.      Pritika Sandhu from Hyderabad House
2.      Pranjal Bhatt from Oberoi House
Dance Colours
For the second time go to Agni Raj Singh in Hyderabad House
PT Awards
The following boys have been awarded their PT Jersey's:
1.      Rishabh Chadda from Oberoi House
2.      Diviij Batra from Jaipur House
3.      Zahaan Quershi from Jaipur House
4.      Raghav Kathyal  from Tata House
5.      Dhruv Prasad from Hyderabad House
Squash Results
The school U19, U17 and U14 teams played RIMC on 11th and 12th October.
The school lost their categories to RIMC but Ishaan Sandhu from Tata House who won his U19 match and Shreyans Chedda from Oberoi House who also won his U17 match.  
Business Club organized its 1st Young Entrepreneurs' Conference, September 2013
The Doon School hosted the Young Entrepreneur Conference for the first time on 21st and 22nd September. The symposium is the offspring of the Business Club of The Doon School and intends to strengthen the spirit of entrepreneurship and business intellect by providing hands-on training through a wide array of relevant activities. This conference is based on a very unique concept and aims at inculcating entrepreneurial and leadership skills through a host of competitive activities ranging from making advertisements to using drama. Nine schools, including teams such as Mayo College for Girls, Mayo College for Boys, Wynberg Allen School, Vasant Valley School and St. Georges College comprising forty participants took part in the conference. The first day revolved around creating marketing strategies for induction cookers and a cross questioning round following that. This round proved to be entertaining yet a great source of learning. This simulation activity was followed by a presentation by the young entrepreneurs and Business Club of The Doon School about their thriving ventures.  
The second event of the day was a theme based entrepreneurship programme aimed at integrating the three necessary elements of an organization, 'innovation', 'environment' and 'entrepreneurship'. The series of presentations laid emphasis on sustainable development by the use of solar panels, rain water recycling and other environment friendly methods. This event was followed by a simulation exercise which looked at the problems and the solutions to the setting up of an aluminum extraction plant at a religious site.  
The closing ceremony saw the Best Advertisement go to Mayo College for Girls' and Wynberg Allen School at the joint first position. Vasant Valley School stood first in the Theme Based Presentation while The Doon School won the Simulation Activity. The overall winners of the competition were the Mayo College for Girls'. 
The Doon School A team, comprising of Siddhart Sethi, from Tata House, Vireshwar Singh Sidhu  from Hyderabad House, Ashim Bansal, from Kashmir House and Ashutosh Goyal from Tata House secured 2nd position in the advertisement activity and 3rd position in the Theme Based Presentation.  The team stood runner up for the overall position. 
The Doon School B team comprising of Kartikey Luthra, from Tata House, Vinayak Chowdhury from Oberoi House, Parth Khanna, from Oberoi House and Sarthak Guta from Kashmir House  won the simulation  exercise.
Doscos win the 4th Shriram Bansidhar Chess Tournament 2013
The school team won the tournament against strong competition from schools in Delhi, Rajasthan, Kolkata, and Gwalior. There were sixteen teams involved. Many congratulations to the school team. The boys were Captain Sarthak Gupta from Kashmir House, Shauraya Agarwal from Tata House, Parth Khanna from Oberoi House and Anuman Goel in D form from Martyn House. The tournament featured sixteen FIDE international rated players, twenty national players and several others who have played at State level. Captain Sarthak Gupta in his closing speech spoke of the unique experience the three day competition gave non rated players. They have had a chance to play rated players at no participation fee. There are almost no such competitions that enable this to happen. The school is most grateful to the Shriram family for sponsoring the tournament each year. 
ISC and ICSE Nikhil Gupta Charitable Trust Scholarships 2013
This scholarship is given to pupils who have secured the highest marks in English and highest average marks in Mathematics and Science in the ISC and ISCE examinations.
Many congratulations to Vidit Sidhana from Oberoi House who was awarded the scholarship for the highest mark in English.
Vidit achieved 97% in English. He is currently at SRCC his first choice university.    
Congratulations also go to Mahak Sharma from Tata House who was awarded the scholarship for securing the highest average marks 97.3% in Mathematics and Science. Please note that the Science mark consists of Physics and Chemistry. Mahak is currently studying at the Hong Kong University of Science and Technology on a scholarship and it is her first choice university.
ICSE   
For English, the award is being shared between thirteen boys who all achieved the highest English mark of 94%. They are:
Aditya Bhattacharya from Kashmir House
Aditya Gandhi from Jaipur House
Pulkit Agarwal from Hyderabad House
Varun Narain Sinha from Hyderabad House
Vireshwar Singh Sidhu from Hyderabad House
Kartikeya Jain from Oberoi House
Armaan Iman from Oberoi House
Abhinav Kejriwal from Jaipur House
Divyansh Goel from Hyderabad House
Rajkumar Vijay from Hyderabad House
Ayush Tripathi from Jaipur House
Suyash Raj Shrivam from Jaipur House
Yuvraj Nathani from Hyderabad House  
Congratulations to Pulkit Agarwal, from Hyderabad House who achieved the award for the highest average in Mathematics and Science of 96.5%. Please note that the Science mark consists of Physics and Chemistry.
Jaidev Singh Memorial Award and Scholarship 2013
This scholarship is awarded to boys who achieved the highest marks in Science at ICSE.
This year's boys achieved 94% and they were:
1.       Preetham Mohan from Hyderabad House
2.       Pulkit Agarwal from Hyderabad House
3.       Sidharth Pahuja from Oberoi House
4.       Suyash Raj Shivam from Jaipur House
IAYP Silver Awards

Congratulations to Akshay Sarawgi, Siddharth Pahuja and Sudhansh Agarwal from Oberoi House, Ashim Bansal from Kashmir House and Ayush Tripathi from Jaipur House and Guruansh Singh from Hyderabad House who have been awarded their silver award.
Rashtriya Life Saving Society (RLSS) winners
For the first time, the school participated in the National Life Saving Championships held at Genesis School, NOIDA in June 2013.  This event had over a hundred participants from across the country and competition was tough. The zones with climatic conditions that favoured all year round swimming, established a lead. Special training sessions were held in school at the start of the summer holidays for the team. Despite the tough competition, two of the boys won silver medals in the U16 and U14 categories, namely Arunabh Uttkarsh from Oberoi House and Nehansh Saxena from Hyderabad House respectively. The other boys who participated in the championship were Pranjal Bhatt, Rohan Agarwal, Divyant Sapra, Agastya Shetty and Tanmay Gupta. They were accompanied by Mrs. Katre who was an Official at the event and has also been invited to be an Official at the Commonwealth Life Saving Championships to be held in Australia in September 2013. 
 As this is a relatively young sport in India, it provides the boys with an opportunity to make a mark at national level, and possibly inter-national level. 
WEMUN Conference 2013
Success was achieved at the MUN in Beijing from 30th July to 5th August 2013.
Congratulations go to Vrindam Nagpal in Oberoi House who won an outstanding delegate award in the Disarmament and International Security Committee and to Abhinav Kerjiwal from Jaipur House and Abhayraj Jain from Hyderabad House who each won outstanding delegate awards in the Security Council.
Honourary Mentions were made to Ritesh Devnani from Oberoi House who represented the World Health Organisation and Kartikeya Jain also from Oberoi House representing the World Bank.
Tanishq Agarwala from Oberoi House was awarded the Best Position Paper who was involved in the United Nations Environment Programme.
 Oberoi House wins B G Pitre Science Short Story Contest 2013
Congratulations to the following boys:            
Seniors:
1st : Prabnur Bal Singh
2nd : Anshul Tibrewal
Both boys are in Oberoi House.
Juniors:
1st: Shiven Khanna was also from Oberoi House!
Swimming success at inter-school competition at St George's Mussoorie 11th-12th May 2013
Congratulations to the following swimming team members who gained the following medals:
Individual categories:
Nehansh Saxena, from Hyderabad House won gold in 50m backstroke.
Pratyasksh Parmar from Jaipur House and Vinayak Chourdhary from Oberoi House won bronze and the medlay relay team for juniors won silver in their freestyle and medley events. The senior team won bronze in all three categories.
Latest Cricket Results 
In an exciting match on Sunday 28th April, the School's 1st XI played the co-educational day school, Mayur College from Jaipur. The School lost by five runs in the last over.
Rishaavraj Das from Oberoi House scored 44 runs. 
Success at U18 state basketball tournament
Two boys from the school basketball team were chosen to play for the U18 state basketball championships from 9th-12th April 2013. Sehaj Singh Jouhol from Tata House and Shourya Kishorepuria from Oberoi House played in the team that defeated Roorkee in the finals 65-41.  
Squash Results 
In a triangular tournament on 24th April, the school played Welham Boys School and Woodstock School. The School played twelve matches, winning seven. The school team comprised of Raghav Kothiwal, Dhananjay Bansal and Shivam Tandon from Tata House, Shreyansh Chheda and Parth Khanna from Oberoi House and Rishi Raj Deva from Jaipur House.  
Doon competes in International French Olympiad 
Thirty two students participated in the International French Language Olympiad.
The following boys achieved the first three ranks in their levels and great world rankings:
Level 1
1. Rudra Srivastava (Kashmir House) : Class Rank- 1st, World Rank: 3rd
He got a medal and a cash prize of Rs.3000/-.
2. Sarvshrest Singh (Hyderabad House): Class Rank- 2nd, World Rank:  32nd
3. Vikramaditya Kapur (Tata House):  Class Rank- 3rd, World Rank: 42nd
Ishita Bhardwaj, from Hyderabad House got a world ranking of 86 and Atreya Guruprasad of Kashmir House was ranked 122nd.
Level 2
1. Anvay Grover (Oberoi House): Class Rank: 1st, World Rank:  45th
2. Pranav Kothiwal (Tata House): Class Rank: 2nd                                      
3. Yash Dhandhania (Hyderabad): Class Rank: 3rd
Level 4
1. Shivam Goyal (Hyderabad House): Class Rank: 1st,  World Rank:  7th
2. Nivit Kochhar (Kashmir House): Class Rank:  2nd, He got a watch as a memento
3. Siddhant Gupta (Tata House)            
 First Round of the Inter-House Hindi Debates 2013
· Jaipur vs Hyderabad
Jaipur House won the debate. Arnav Joshi was adjudged the Best Speaker. Arth Gupta & Yash Agrawal were adjudged the Most Promising Speakers.
· Kashmir vs Oberoi
Oberoi House won the debate. Vrindam Nagpal was adjudged the Best Speaker. Arunabh Utkarsh was adjudged the Most Promising Speaker.
 Result of B.P. Chandola Hindi essay writing contest (April 2013):
Following are the results:
Senior Category: 
First place: Shaurya Agarwal (76-T)   
Second place: Vallavi Shukla (152-O)   
Junior Category:
First place: Vansh Aggarwal (268-O) 
Second place: Chinmaya Sharma (294-K) 
Joint third place: Rudra Srivastava (246-K)  
 Mihir Gupta (378-K)  
 Oberoi House wins Inter-House Cricket Competition 2013
Congratulations to Oberoi for winning the Junior and Senior Cricket Cup 2013
 Inter-House Hindi Poetry Competition 2013
Oberoi House have also won this competition:
1st:Abhinav Kejriwal
2nd: Vrindam Nagpal
3rd: Anshul Tibrewal
Boys compete at SRCC Business Conclave
SRCC Business Conclave: The Young Leaders' Initiative is a Programme of SRCC Business Conclave to enhance a strong desire to develop a challenge that can sharpen the young brain and provide a first hand experience of participating in national level college event.
The prime objective of the competition was to bridge the gap between classroom theories and its real life application. Business Conclave 2013 also included OTS (On-the-Spot) events in the following areas:

* Innovation and Technology
* Economics and Money
* Human Resource Management
* Media and Communication
* Operations Management
* Taxation Planning
* Retail Selling
* Networking Skills
* Logical Reasoning
* Statistical Analysis

The Doon School with a team of following boys participated on the 5th and 6th of February, 2013 and reached to the finals along with four other schools. The Doon School team consisted of: Uday Goyal, from Jaipur House, Himanshu Poddar in Oberoi House and Shivaan Seth of Jaipur House.

Many schools which participated in the business conclave, including top day schools in Delhi and Kolkata.
Prizes and Awards for 2012

•Reading Awards: Junior: Silver: Ananay Sethi (266-O) and Ishaan Kapoor (339-O)
Bronze: Shiven Khanna (346-O)
Medium: Bronze: Vrindam Nagpal (638-O)
Senior: Silver: Vidit Sidana (552-O)
•Bakhle English Essay Prize Test: Second Position: Rayhaan Imam (554-O)
•Certificate of Excellence in Yoga in C Form (2012): Ishaan Kapoor (339-O)
•Best Musician in B Form: Shaurya Varun Kishorepuria (167-O)
Best Musician in SC Form: Yuv Vir Khosla (578-O)
•J.S. Chowdhury Trophy for the Best Aeromodeller, 2012: Nipurn Dutta (62-O)
•The Sunil Rawlley Prize for the Most Promising Swimmer: Animesh Jain (111-O)
•The Trophy for the Best P.T. Leader: Tanmay Kapoor (116-O)
Results: Inter House Competitions 2012
Games and Sports

Inter House Athletics: 1st Position in the Junior and Medium Sections
Inter House Badminton: Winner of House Cup
Inter House P.T.: Winner of Junior Cup, Senior Cup and House Cup
Inter House Swimming: Winner of Medium Cup
Co-Curricular

Inter House Hindi Poetry Competition: Winner of House Cup
Inter House Shanti Swaroop Science Essay Competition: Winner of House Cup
Inter House Music Competition: Winner of House Cup
Inter House Dance Competition: Winner of House Cup
School Records Broken at Inter-House Athletics Championship, October 2012
Siddharth Sarin has set up a new record with a discus throw of 29:38 m in the Medium category shattering the old record of 29.10m set by V.Suri in 1981.
Oberoi House won the Junior and Medium category and Tata House the Senior Cup. Tata House won the House Cup.
Adhiraj Singh from Oberoi House and Muzaffarnagar, U.P. won the Mumtaz Ahmed Trophy for the Best Athlete of the Championship and Angad Shergill from Tata House and Chandigarh was given the Most Promising Junior Athlete award.
MUN success at Dhirubai Ambani School
There were thirty schools competing with four hundred and forty delegates in the MUN at the end of October 2012.Schools came from all over India as well as Dubai, Muscat and Pakistan. The school's team included Pranay Raj Kapoor from Hyderabad, who received an Honourable Mention and Nakul Talwar in Oberoi House, received the Outstanding Delegate in ECOFIN.
Doon School runners up in Debating Competition at Mayo Girls Silver Jubilee Celebrations
At the beginning of September, the school fielded a team in English and Hindi Debating as well as Multi-Media against sixteen other schools from Bishop Cotton in Shimla to Daly College in Indore. The multi-media team of Nivit Kotchhar from Kashmir House and Delhi and Abhishek Bansal, Hyderabad House and Gujarat came 4th.
The Hindi team debaters which were runners up, losing to the host school consisted of Abhinav Kejirwal, from Jaipur House and Delhi, Ritesh Shinde from Jaipur House and Maharashtra and Yash Agarwal from Oberoi House and West Bengal. Ritesh Shinde was awarded the Best Speaker in the semi-finals and Abhinav Kejirwal was judged Most Promising Speaker in the final.
In the English debates, the team was also runners up. The team for this part of the competition were Yash Jalan, from Hyderabad and Kolkata, Pulkrit Aggarwal from Hyderabad House and Pilibit, UP, Rahul Srivastava from Hyderabad and Noida and Shashvat Dhandhania from Tata House and Kolkata. In the quarter finals, Pulkrit Aggarwal and Rahul Srivastava were judged Best Speaker and Most Promising Speaker respectively. In the semi-finals, Rahul was judged best speaker and in the finals Shashvat was judged the Most Promising Speaker.