Delayed closing date – Summer at Doon 2016!
Posted on : May 4, 2016
Delayed closing date due to overwhelming demand for places 2016!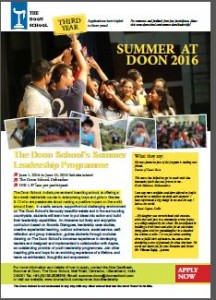 The school is pleased to announce that due to the record numbers of enquiries for the Summer at Doon 2016 Leadership Course, it is delaying the closing date until 7th May. This will allow all the enquiries to be processed thoroughly and to allow those applicants who have contacted the school to complete their applications in full. Marketing Director Elizabeth McLaughlin said, 'we are delighted to be in receipt of such interested applicants whose applications are strong and represent multiple states across India. This the school's third year and the demand has never been so strong for the Summer at Doon Leadership Course. The Doon School has worked very hard to create a distinctive and intellectually creative programme, which has been designed to make the applicants think about the challenges of leadership in the twenty first century'.