DSMUN '17 Closing Ceremony & Results
Posted on : August 20, 2017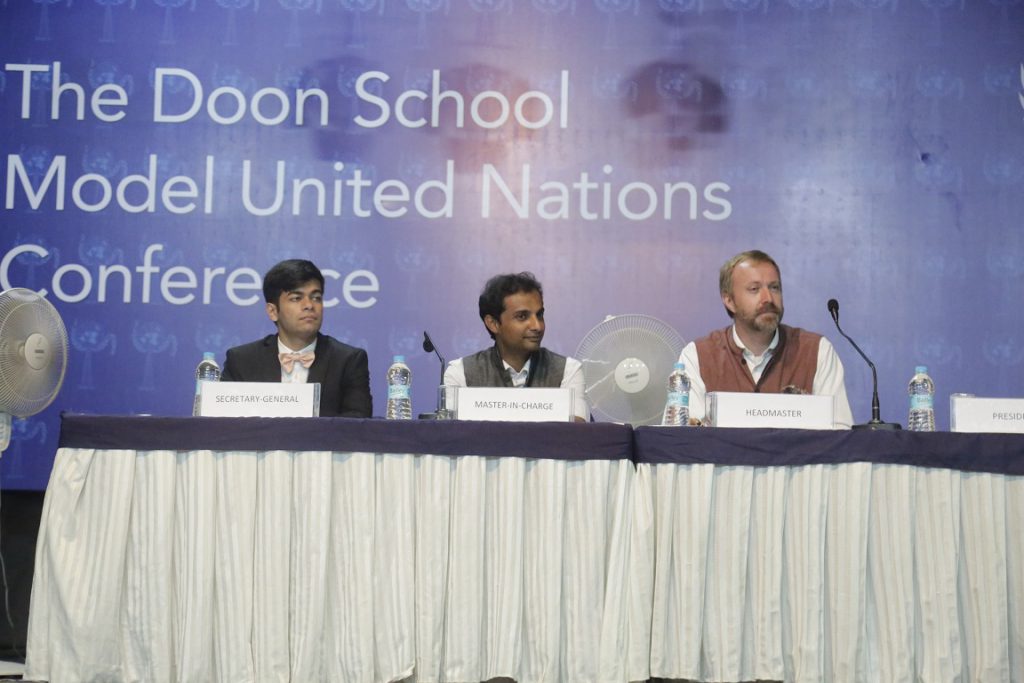 The last day of the 11th  DOON SCHOOL MODEL UNITED NATIONS concluded this evening with Mr. Matthew Raggett  the chief guest telling the delegates that negotiation & collaboration skills employed by them over the past three days was a preparation for their future lives. Mr. Mohit Sinha the organizer, Divij Mullick and Deep Dhandhania the president and secretary general of the DSMUN respectively also addressed the gathering. Also present on the occasion were Mr. Philip Burret 2nd Master of the Doon School, Mr. P.K. Nair & Mr. Kamal Ahuja – Asst. Headmaster, Deputy Head Academics respectively & Mr. Piyush Malaviya, Director of Public Affairs of the Doon School. The conference as you know is the biggest high school MUN in India and probably South East Asia attended by about 400 odd student delegates from 32 schools across the country.
The last day i.e. today had some very interesting simulated crisis situations given below:
In the General Assembly: North Korea launched a nuclear missile at Washington DC
Other Committees: USA deployed nukes in Outer Space with the help of UAE
Pakistan and China pushed troops into Kashmir following a withdrawal of the Indian Army
Lok Sabha committee:-
Bomb blast at Jantar Mantar during LGBT pride parade
Supreme Court declaring demonetization illegal, recalling all 2000 notes.
The results were as follows:
Best delegation (large) – Mayo College Girls School
Best delegation (small) – Mayo College, Ajmer
Best delegation over all – Mayo College Girls School
Best committee – All India Political Parties Meet