Individual Projects: Serving the Community, December 2015   
Posted on : January 15, 2016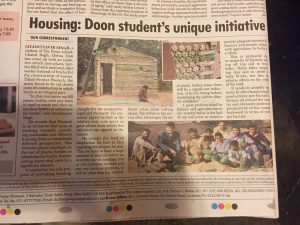 Jayadityavir's Singh from Jaipur House in SC form had conceptualized a project using discarded plastic bottles to substitute bricks.His concept of  Plastech in was  initially implemented  by a group of boys in Village Katapathar in Uttrakhand .  A home was built for a lady who was living in a temporary shelter, thereby transforming her living conditions.
The Plastech Model work initiated was not merely limited to Uttrakhand. Jayadityavir has carried on the good work and has made another prototype model in Village Chak 41 RB , Sri Gangangara in Rajasthan.
Plastech is environment friendly has the potential to advance exponentially to serve as a cost effective method for low cost dwellings & shelter for the underprivileged and is a unique solution, to the ever-increasing need for lost cost dwellings. The detailed designs, blue print, estimates along with the research paper for the prototype low cost Plastech that were prepared by Jayadityavir are reasonably extensive and interesting. It is good to note that discarded plastic is put to good use and also that it discourages use of good fertile topsoil which is conventionally used for making bricks.