June 2015: First Schools to trek to Kedarnath after 2013 Kedar Valley Disaster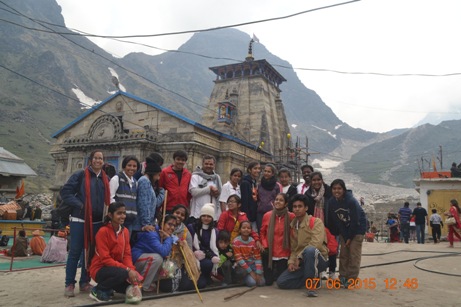 When most of people wanted to relax after four months of the hectic schedule at The Doon School, we hosted the 3rd Regional Round Square Service Project at Chaka, Rudraprayag. The flash floods of Kedarnath in the year 2013 caused massive destruction in the valley of Uttarakhand, which led to washing away of many schools, houses and basic facilities in this area. The major loss was the washing away of schools situated near the banks of river Alaknanda. As everyone is already aware, the 2013 flash floods wreaked devastation in the Kedar Valley and thousands of people died and thousands are still missing. The flash floods have also taken away the livelihood of many people in the hills. Many of the main earning members of families have died, making it difficult for the rest of the family to even have a meal or find a means of livelihood.
The school has been working with Taxsila Public School and now construction of school has started, which Doon is hoping to have completed by next year.
There were sixteen delegates from the following schools apart from Doon which included: MGD in Jaipur, Assam Valley School and Rajmata Krishna Kumari Girls School, Jodhpur. They started their journey to Chaka village on 2nd June. From Doon School Ananya Shukla, from Kashmir House and Neveditta Ghughtyal from Hyderabad House and Mr K. C. Maurya joined this project.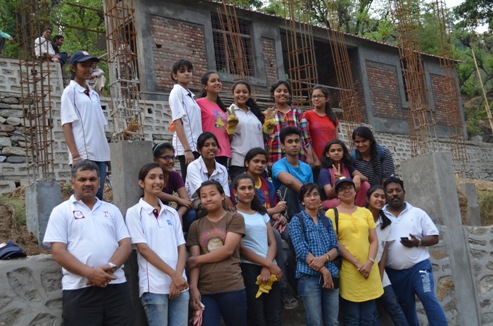 This time delegates were to help in the construction work of the school. Initially, they helped construction workers by transporting boulders from the river side to the construction site by making a human chain. Since transportation in the hills is very expensive, our delegates collected and transported large number of boulders which would definitely reduced the overall construction cost of the school building. Over the next few days, they also helped in shifting cement bricks and filling the pillar holes. It was hard work but everyone was very enthusiastic and satisfied with whatever work they did over these days.
We also trekked to Kartikey Swami Temple which is situated approx. 10,000 feet above the sea level and trekked 3.5 km from the dense forest with lots of flowers and other flora and fauna. This trek was to give delegates an experience of trekking in the mountains before climbing to Kedarnath which was the most awaited activity during this trip. This time we wanted to show the area from where devastation had started in 2013.
The 3rd Rudraprayag Social Service Project not only made us realize about the difficulties faced by the mountain people in the flood affected are but also helped us find new friends and also thought us the qualities of discipline and most importantly teamwork. The day we started off with our project made us think that how will these 10 days pass. But they passed away in a few seconds and we are just left with beautiful memories to cherish. Every moment was memorable and joyfull', said Surangana Gajendra Singh, a Class 12th student from Rajmata Krishna Kumari Girls Public School, Jodhpur.
' The best way to find yourself is to lose yourself in the services of others' said Mahatma Gandhi. 'The day I got to know about this service project. I was very excited for this project. I am glad that I came across a project like this which gave me a lot to remember, lots of confidence and happiness. I have learned that you can gain knowledge, not only from classrooms and books, but also from outside the classrooms. I would like to thank The Doon School team for this wonderful experience,' said Nehal Gehlot Class 10th student from Rajmata Krishna Kumari Girls Public School, Jodhpur.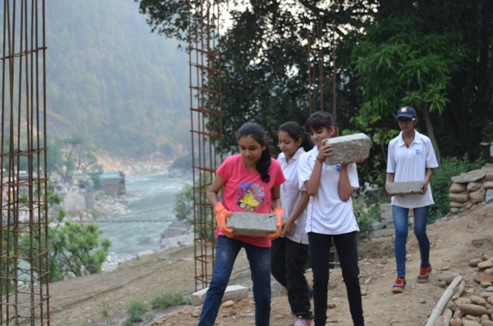 'To be honest, I wasn't sure if I actually wanted to come for the same service project again but am glad I did! I am happy to be here. It feels so good to help those kids and thanks to The Doon School for giving us this opportunity. Lending a hand to build that school makes me feel proud. I am sure I will be back to see the kids smile and to hear everyone appreciating us for what we are doing. While working our inner happiness ignites and gives us the strength to go on. At some point we feel like giving up but then when we think about the things people lost when the floods came. We feel an inner power to go on. I am really very happy to be part of this project again' said Angela N Williams a Class 11th student from Maharani Gayati Devi Girls Public School, Jaipur.