Posted on : May 10, 2017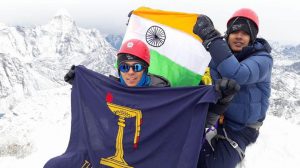 Ranvijay Singh and Stanzin D. Namgyal climbed Imja Tse (6189 meters asl) also known as Iceland peak and reachedthe peak at 8.30 am on May 9th, 2017.  Ranvijay was also a  member the Thar and Manali-Leh cycling expeditions.
This peak is situated in upper Khumbu Valley within Sagarmatha National Park. It was first climbed in 1953 by the famous British expedition team that went on to summit Mt. Everest for the first time in human history. Sherpa Tenzing Norgay was also one of the first to summit Iceland Peak.