Praise in the press: Doon featured in the Economic Times, 2nd November 2014
Posted on : November 4, 2014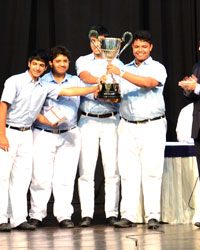 'How India's renowned Doon School is embracing change to retain its exclusivity'.
Dosco in top 5 at the IISPSC 2014( International Independent Schools' Public Speaking Championships) in Hong Kong 2014
This year the competition was hosted by the Rennaisance School Hong Kong from 6th to 21st October .The Doon School sent a team of four students. Amol Pajni and Nihal Singh Mann represented the school in the parliamentary debates and gave good performance in every round, and they participated in the persuasive speeches and interpretive reading categories. Tejveer Kohli participated in the persuasive speaking, interpretive reading and extempore speaking categories. Smrithi Nair represented school in interpretive reading, extempore speech and persuasive speaking categories. She qualified for the finals and gave a brilliant performance in every round . She was ranked 4th in the interpretive reading category and this is commendable as she was participating in an event that had over one hundred participants and she made it to the top sixteen. Her rank was an overall rank among all the participants from over thirty schools across the globe.
Below is a list of participating schools that were from Canada, U.S.A, Bermuda, Australia , U.K and Hong Kong.
Appleby College
Ashbury College
Balmoral Hall School
Branksome Hall School
Buckingham, Browne & Nichols
Collingwood School
Crofton House
Gray Academy
Hotchkiss School
Kingswood Oxford School
Learning Leaders (Shanghai American School)
Moreton Bay Boys College
Reading Blue Coat School
St George's School
St. Andrew's College
St. Clement's School
St. John's-Ravenscourt School
St Columba's School
Strathcona- Tweedsmuir School
The Bermuda High School
The Bishop Strachan School
The Country Day School
The Doon School
The Roxbury Latin School
Salstus Grammar school
University of Toronto Schools
Vivek High School
West Point Grey Academy
Winsor
York House School
South Island School, HongKong
Renaissance College