Praise in the Press for the MCC at Doon January 2015
Doon is due to host its second MCC cricket training event at the end of January 2015 and demand has swamped the school! As well as boys from the school, the MCC will also met boys from Pune, Indore and from regions Mumbai and will introduce many of them to the Pitch Vision technology for the first time as the school is the first in India to buy the specialized kit.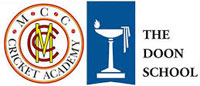 This is what the press has to say about the event.