Her Royal Highness, The Duchess of Cornwall's visit to The Doon School brought out the sunshine
Posted on : November 9, 2013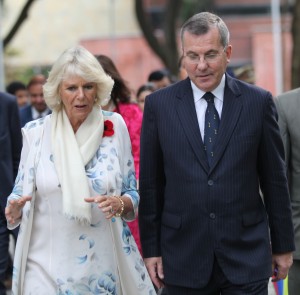 Unseasonal rain showers did not spoil a royal visit to The Doon School by Her Royal Highness, the Duchess of Cornwall. The Duchess quipped that she had brought the school "some nice English weather", but, shortly after her arrival, the rain stopped and boys and staff of The Doon School and underprivileged children from schools it supports welcomed her to their campus in Dehradun on Thursday 7th November 2013.
The Headmaster, Dr. Peter McLaughlin, said: ''The Duchess of Cornwall was especially interested in our girls' education and women's empowerment social service projects carried out by our boys, so we were pleased that she had an opportunity to meet women and girls involved in them, as well as children from a number of the schools we finance and support across the state. We think that it is vital for our boys, many of whom go on to leadership roles in India and across the world, to take responsibility for the plight of women and girls in India, as well as their fellow citizens of all ages, through these service programmes and our collaboration with NGOs working in a number of social service fields." The Duchess spoke to women who had been given vocational training through the school, and microfinance and other support to start their own businesses, including food processing, clothes design and tailoring, and to boys involved in drug rehabilitation, waste management and child education projects in and around Dehradun. Her Royal Highness also tried block printing on fabric with children from the poorest sections of society who go to The Doon School for ceramics and textiles lessons on a regular basis.
At the conclusion of her tour, the Duchess thoroughly enjoyed the music programme in the school's Rose Bowl amphitheatre, which featured "The Brotherhood of Man", a song from the school's recent production of How to Succeed in Business Without Really Trying and a Rajasthani folk song by the school's choir and orchestra. The Duchess had earlier witnessed a mass inter-house PT display held on the school's Main Field, and at the end of the performances a commemorative cake and PT gong were presented by the Duchess to the winning house in front of a large audience of Doon School boys and hundreds of underprivileged children from what the Headmaster called "our little brother and sister schools". The Duchess told the Headmaster that she was very impressed with the courtesy of the boys, the discipline displayed in the PT display and the range and quality of the school's music.
Attached photograph: Her Royal Highness, The Duchess of Cornwall, in conversation with Dr. Peter McLaughlin, Headmaster of The Doon School, during her tour of the campus (7th November 2013)
Visit by HRH The Duchess of Cornwall on www.princeofwales.gov.uk
The visit was recorded by international press and placed on the official site of the Prince of Wales.