Summer At Doon 2016 concludes
Posted on : June 16, 2016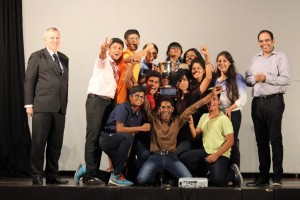 The third edition of Summer At Doon, a fifteen day leadership program conducted by Aspire India and hosted by The Doon School concluded in the Vittal Mallya Hall on June 15th, 2016. The Chief Guest of the closing ceremony was Dr Peter McLaughlin, the Headmaster of The Doon School. The Guest of Honour was Mr. Amit Bhatia, Founder and Chairman of Aspire India. The Master of Ceremonies was Mr. Kamal Ahuja, Deputy Head (Academics) of the Doon School. Also present were Mr. Philip Burrett, Mr. P.K.Nair, Mr. Piyush Malaviya, Mr. A.Qezilbash along with several parents and 72 boys and girls from various parts of India who had attended the program.
Of the 72 participants, 46 were boys and 26 girls. Over the last 15 days these students got to experience 'Doon School life' in a capsule with classes i.e. Socratic dialogues, communication & soft skills, social media, theatre games, social & community service, trekking & camping, rafting and other adventure activities. The 15 days were interspersed with inspiring lectures by Kalikesh Singh Deo, an ex student and member of Lok Sabha, Ankur Bahal, another 55 year ex student who summited  Mount Everest recently, Commander Abhilash Tomy, the only Indian to circumnavigate the earth solo and Ali Fazal, actor and another ex student.
Aryaman Singh, a class 9th student of Delhi said "It was the most amazing experience of my life!"  Saarthak Kothari from Tokyo said he couldn't imagine that The Doon School had so much to offer !