The Dosco Philosophy

As mentioned in the book "Doon, The Story of a School" the founders of The Doon School envisaged a school that would provide leaders in every sphere of national life, leaders who would show the way to their countrymen in shaping the destiny of India.
The resulting education philosophy of the school was that the three things upon which a person's value as a member of humanity would depend would be
the health and strength of his body,
the vigour and accuracy of his mind
his character and personality.

The Old Boys Society has a website whose philosophy is to support the DSOBS and to inspire and remind both old boys and students (Doscos) alike of those ideals, beliefs and guiding principles that began the school and upon which the school continues to thrive. To always know what it takes to be a leader, to be a genuine leader and to make the kind difference that extends far beyond personal gain and benefit. The website aims to do this by:

1) Providing news, analysis and commentary on all things Doon,
2) Highlighting leaders and role models from within the Doon community,
3) Bringing Doscos from around the world, different generations and walks of life together for meaningful conversations,
4) Serving as a resource and support base for Doscos, the DSOBS and all other Dosco related endeavours.
Please Click Here to go to the Doon School Old Boys' Society Website.
 Message from the DSOBS Website Subcommittee
Dear Alumni,
Welcome to The DSOBS Website!
Our aim, with the DSOBS Website, is to give you a platform to interact with each other. It is here to help you find old friends (Find a Dosco) and at a click of your mouse send them a message, let them know what you are up to, similarly, Contact the office bearers of the Society. Explore the site and find out what the society is up to. Here at the touch of a button you can read The Rose Bowl, buy Memorabilia or enlist in the Campaign to support an elementary school in the foothills of the Himalayas. If there is a batch, city, regional dinner, exhibition, music performance, post it on "Upload your Event", let visiting Doscos and the fraternity know there is something on in your city that evening. However, to use the website you will need to Login. Most of the site is password protected to deter curious tourists, who may contact the Secretary of the Society, read only the current Rose Bowl, buy memorabilia and access a few other limited fields.
The Website Search Function: At the moment this is a single word search of the entire website, except the Dosco Record database which can only be accessed through the Dosco Record Tab. We are in the process of upgrading it to a two word/phrase search but for that you will have to bear with us a while.
The Contact Tab: Casual visitors to the site may only contact the Secretary of the Society. However, once you Login this tab opens to a page and allows Alumni to Contact the Executive Committee, every Batch, Chapter and Regional Representative of the DSOBS.
The Login Tab: As access to this site is restricted to members of The DSOBS. In order to protect personal and contact information of our members we have password protected most of the site. You will receive your Login and computer generated password on your email id registered with the Society. We advise you to change this password at your earliest.
However, in case you have forgotten your password, just click on the forgotten password option and a new password will be sent to the email id you have registered with us.
If you are not registered with The Dosco Record then Click on Register in the login menu and complete the form. It may take a few days for us to verify your details and once we have done so we will send you your login and password.
The Rose Bowl Tab: This menu allows you to access, read and search the current Rose Bowl and then, once you have logged in, the entire Rose Bowl Archive. If you have a comment on The Rose Bowl you may write a Letter to the Editor from the website, and, if you want to look at the latest School Weekly, another tab will connect you to The Doon School Weekly on the School's site.
The Dosco Record Tab: 
The Find a Dosco search function, in the Dosco Record Tab, works using any combination of the search parameters on the screen. For Example: On entering a search with a single entry of 1975 in the "Batch" option, you will get the entire batch of 1975. To refine the search further you could enter JA in the House option and 1975 against Batch and that would display all the boys in Jaipur 'A' in the 1975 batch, you may use any combination of the Parameters offered to define your search. Once you find the person you are looking for click on his name and you will be able to email him (if he has registered his email with the DOSCO Record). Are you going to an unfamiliar city? Do a city search and the names of all the Doscos in that city will pop up, click on a name and send an email.
Modify my record: This simple and easy to use function will help you update and manage your personal information and decide how much information you make accessible to view. To use the website there are a few fields we have made mandatory, such as your name, school no, house, year of joining, year of leaving, batch and city of residence.
Archive: This is a collection of note cards on which Mr Martyn collected information for the first Doon School Record and then added his hand written notes as he collated the information. In addition to this is the correspondence and data sheets that were exchanged during the creation of the database by Mr Darshan Singh, who finally completed the mammoth project under the guidance of Mr Martyn.
The Media Tab: Though this promises to be the most interesting section of the website you will find many fields empty, and that is because we are waiting for you to log on and populate them with your pictures etc. It is a platform we are creating for you to use and develop! If you have a batch dinner or a chapter event please upload your Photographs under the appropriate heading, please also remember to upload the event in advance, on the Upload Your Event option. We have an easy to use readymade uploading format in both cases. If you have School pictures of your batch or past events, or Archival Pictures, we have space for that too! We can add links to Music you have written or you can upload songs about School or download the School prayers and songs. If you have Videos you'd like to upload of events or You Tube links to work you have done, well here is the space. Literature and the Dosco is a space for Books on the School and books authored by Doscos. Send us a picture of the cover a short write up, with a maximum of 150 words, the first ten pages of the book and we will upload them. We can also add a link to where it can be bought if you send that to us. We have Dosco Poetry and Essays, Archival Correspondence, Old Travelogues and Expedition records and if you can find your record of your 7-day mid-term trek we'll upload that with thanks!  We also have the Foot essays here for easy perusal.
Note: All uploads for pictures etc. have to be done one at a time. You cannot upload more than a single file at a time.
Memorabilia Tab: Non-Logged in access allowed. This tab links all visitors to the official DSOBS Memorabilia sale site.
Campaign Tab:  The DSOBS social initiative platform that gives community development initiatives by OBs and those linked to the DSOBS exposure to the fraternity. This is a platform with links to the subcommittee for the formation of the DSOBS Club, the Martyn School and our own DSOBS Uttaranchal Disaster Relief Initiative.
Donations Tab: 
Our founding fathers envisioned The Doon School as a pan-India school and at the same time have boys in School that came from families from all walks of life. The DSOBS has a firm belief that a legacy student helps to keep the continuity of that original vision. However, with the passage of time, School's fees have increased to an extent where salaried Doscos find it difficult to conceive of putting their children into 'School'. To this end we at the DSOBS have instituted Bursaries to help Alumni meet the School's escalating fees. The Society also encourages Bequests from Alumni to create further Bursaries that the creators of the bursaries can mandate.
The Careers Tab:  We are waiting for Doscos from NGOs, Businesses, Consultancies to offer young Doscos Jobs/Internships/apprenticeships/summer jobs which we will be happy to post on the website. 
The Memorandum Tab: This is where the current memorandum of the society is posted for Members to consult. It also contains the Archive of past memorandums and AGMs
Locate a Chapter Tab: The DSOBS is a very active Alumni Society with chapters spread out across the world, this tab will show you their locations on a Google map and give you contact information for the Chapter Representatives.
The Upload your event feature: Is here for Alumni to share with the fraternity any event they are holding, from a batch get-together to an exhibition, a book launch to a regional event, anything that you, the alumni are a part of and want to share with the rest of us. Click on the tab and fill in the form and we do the rest.
Letters to the Website Tab: Toast us, Roast us or express a considered opinion, we will be glad to hear from you.
The Thanking and Acknowledgement bit: Now to the bit where we give thanks, for in this case thanks and acknowledgement are most certainly due. First, and above all, to Govind Dhar, for gently insisting on excellence, completely driving me up the wall and making my blood run cold whenever I saw a mail beginning "I think…" or "could we..." To the late JAK Martyn, Darshan Singh, Nalin Khanna and Prithvi Gill for their painstakingly careful work and collating the Dosco Record. To Anil Malhotra and Sunil Chaddha, for scanning reams upon reams of documents and delivering them unto us in little pen-drives. To Valentina Dikshit, for always smiling and never complaining whenever I roped her into "Website work" when she has more than a plateful with The Rose Bowl (with a capital T, Rahul!!!). To Karam Puri for his unquestioning generosity with innumerable photographs. To Sarah Saunders, Mr Foot's granddaughter, for the 'Original' Sixteen hand-typed manuscript and in anticipation of further treasures from the family archive. To Mr Sheel Sharma and Mr Narayanan, who were on the receiving end of my "may I please have…" and then a long, long, list of precious original documents. To Shivendra Singh for the hours that he has spent coordinating people and pictures. To Hemant and Anirudh, thank you for your unstinting support. To Raju Makhijani, for bearing with our multiple additions and producing this absolutely brilliant website! 
So adieu dear Alumni, but please drop in, upload and keep in touch.
The DSOBS Website Subcommittee.
Rahul Kohli
Anil Malhotra
Govind Dhar
Shivendra Singh
Prithvi Gill
Hemant Sharma
Anirudh Chaudhry
Please Click Here to go to the Doon School Old Boys' Society Website.
Latest News:
Latest News - Summer at Doon
 Due to demand from international applicants and also those applicants from Kerala, the deadline for applications has been extended to May 10th 2015. To make your application please do not hesitate to contact Ms Abia Qezilbash at This e-mail address is being protected from spambots. You need JavaScript enabled to view it or telephone her on: +91 (0) 135 2526516. For full details of the course and feedback back from last year's course please view www.doonschool.com/summer.doon/leadership. Please note that there are currently very few places left so we would urge you not to delay and be disappointed. 
Old Boy Climbs the Mountains, April 2015
Capt. Ankur Bahl aged 54 a Doon School alumni  from 1976 and his wife Sangeeta Sindhi  Bahl 50 , Sacred Heartian , two  business professionals with a  passion that have taken them to scaling heights like never before. They addressed The Doon School boys on Saturday 28th March. The talk was attended by boys in class 8, 9 & 12.  The session was presided over the secretary of the Doon School's Historical Circle Naadir Singh. They gave a very interesting and inspiring talk well supported by slides and anecdotes .  
Ankur was 50 years and Sangeeta was 46 when they decided to pursue the 7 summits of the world in 2011. A summary of their achievements as illustrated in their talk is given below:
Captain Bahl's son has just started at the school in Class 7 at the start of April.
They have completed:
Mount Kilimanjaro 19341 feet, highest peak on Africa on 31st December 2011
Mount Elbrus 18500 feet the highest peak in Europe on 18th July 2013
Mount Vinson 16000 feet the highest peak in Antarctica on 18th January 2014
Mount Mckinley  20320 feet the highest peak in North America on 28th June 2014.Ankur reached the summit and Sangeeta became injured and had to turn back. She returns to climb in June 2015.
Mount Aconcagua 22347 the highest peak in South America on 28th December 2014 for Ankur
On 23rd January 2015 Sangeeta who had a marvellous climb, post knee operation and rehabilitation after less than 6 months she climbed the highest ever.
Their dream of climbing high will continue.Despite the age and they will continue to inspire both men and women as they are setting up to be the oldest Indian couple in the world to do so.
Doon School boy receives record Ivy League and US college offers 2015
Doon School Class XII (SC) boy Pulkit Agarwal has made history there with a dazzling array of seven Ivy League placement offers, as well as from eight other US colleges and universities, including Stanford, the University of Chicago, Georgetown, Duke, Wesleyan and Northwestern. On 31st March, Harvard, Princeton, Columbia, UPenn, Brown, Cornell and Dartmouth all offered Pulkit placements when they announced their 2015 Regular Decision results. This year worldwide applications to US colleges and universities rose dramatically yet again, so Pulkit had to beat off stiff competition for the limited number of places available to international students. A number of the fifteen colleges have also offered him generous scholarships for his four years of study in the United States.
Pulkit, who comes from a medical professional family, aims to major in Economics and Political Science.  Dr Peter McLaughlin, Headmaster of The Doon School, said: "We are delighted for Pulkit that he has pulled off this astonishing feat given the hyper-competitiveness of the admissions process to the elite universities of the world.  The fact that so many top-ranked colleges have identified his tremendous potential, as we did when we admitted him to Doon, is a tribute to Pulkit's focus and determination to use his talents to the full.  A thorough gentleman, he was always a pleasure for our teachers and our specialist careers department to work with. As well as his academic commitment, Pulkit played an active part in the wider life of the school; he represented Doon in world debating competitions, in international and all-India Model United Nations conferences, was a School Prefect with many leadership responsibilities and had a great passion for playing cricket for his boarding house."
Pulkit now faces the unenviable task of having to choose one from amongst this constellation of stellar universities by 1st May, but the school careers department is guiding him in making this difficult call.
Dosco author and only Indian author in Man Booker Final Selection 2015
Congratulations to Dosco Amitav Ghosh who is the only Indian author listed in the then finalists for this year's Man Booker International Prize for this contribution to the English language writing. 
Latest Entrance Examination Information Update for 2016 entry
The latest information and guidance for preparation for The Doon School Entrance Examination is now available to all prospective parents who have registered their sons for the examination. It will be sent to you very shortly. For further information about the entrance examination and merit based scholarships, together with bursaries (financial aid) please do not hesitate to contact Mr Madan Kothari, Head of Admissions by telephone +91 (0) 135 252 6406 and (please leave a message on the answer machine if required) or email him at This e-mail address is being protected from spambots. You need JavaScript enabled to view it .
The Director of Admissions, Marketing and Communications is Elizabeth McLaughlin who can be contacted by email: This e-mail address is being protected from spambots. You need JavaScript enabled to view it or by the main school telephone number +91 (0) 135 2526400.
Due to demand: A third southern examination centre will be available for 2015
The Doon School is very pleased to announce that due to popular demand, the school is now offering a third southern based entrance examination centre. Bangalore will now join Chennai and Secunderabad as the three centre's for boys to sit the examination.
The other examination centre's are The Doon School, Jaipur, Kolkata, Lucknow and Mumbai. Boys whose parents who are located out of India are able to choose their centre or sit the examination in their current country. For more details, please contact Mr Madan Kothari by email: This e-mail address is being protected from spambots. You need JavaScript enabled to view it or by telephone: +91 (0) 135 252 6406.   
DSOBS concert in Delhi, January 2015
The DSOBS hosted a concert of Hindustani Classical on 6th January in Delhi. The Headmaster attended and was delighted to see so many old boys and current parents as well as hear from musicians who attended school from over thirty years ago, some of whom are now professional musicians.
Breadth of subject choice continues for Doscos in 2015
Boys are continuing to choose a huge range of courses across the globe. Such diverse interests range from History and Law to Economics, Engineering and Journalism, Computer Science and International Relations as well as Business Management. Headmaster, Dr Peter McLaughlin said 'this increasing diversity reflects the deepening and broadening of the curriculum in and out of the classroom at Doon and the intellectual and creative opportunities now  available to them. They are also hearing from the large numbers of older boys who are already at university about the exciting learning environment that awaits them. Such diversity of course options will enhance the diversity of intellectual interest and professional decisions of the school's global alumni.' 
Latest 'Dosco' school newsletter and Spring/Summer term 2015 Arts Calendar published
The school latest newsletter The Dosco is now published as is the school's termly Arts Calendar 2015.
Latest Summer@Doon Leadership Programme 2015 Information now available
The 'save the date flyer' and the full brochure for this year's Summer@ Doon Leadership progamme are now available. For further details please see the Summer@Doon 2015 website.
The BBC World Service: India's Eton in conversation with Old Boy and journalist George Verghese
Please click here for the broadcast.
MCC 2015: Cricket Training
 Please: 
Click here to download/view the MCC Flyer.

 

Click here to download/view the Places to Stay. 

 

Click Here to download/view the Letter to the Prospective Parents from the Headmaster, The Doon School. 

 

Click Here to view the MCC DVD of Cricket Training held at the Doon School last year (January, 2014). 

 
Old boy and current parent, wins award from IIT Delhi
Congratulations to Mr Lalit Pande ex 84 K class of 1963 father of Abhishek ex 99K and Ashish 284K who has been awarded the Distinguished Alumni Award for 2014. The award has been given to you for your work with the NGO, Almora empowering hill village women.
Praise in the press: Doon featured in the Economic Times, 2nd November 2014
Please click here to view the article 'How India's renowned Doon School is embracing change to retain its exclusivity'.
Dosco gets published in Columbia's Undergraduate Law Review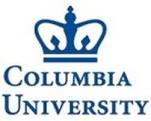 Kunal Kanodia who left the school in May 2014 having completed his IB has had his first published piece of work at Columbia. Kunal who is now at Columbia has written on a very topical subject. Read more: http://blogs.cuit.columbia.edu/culr/2014/07/31/the-third-gender-be-yourself-but-dont-have-sex/
First Old Boy offered Erasmus Mundus Fellowship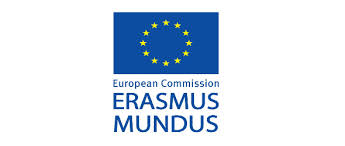 Congratulations to Saksham Sharda who left the school in 2009 from Oberoi House. He studied English at (University of Delhi), and then an MA in English (2012-14) from the Faculty of Arts (University of Delhi).
This was what he says about the process: 'In the second year of my MA (in 2013, that is) I applied for this fellowship. There was an interview and everything and I was nominated by the Canterbury-Prague-Porto-Berlin university-consortium interview committee in Jan 2014. The European Union's Education, Audiovisual and Culture Executive Agency (EACEA) confirmed the nomination quite recently which did come as a surprise because I'm probably like the youngest person on their list (two of the other candidates are married!) and I never ever expected to win this at all (they take just 4 people in the entire world, and 2 from within the EU for this course...I mean I even kept a JNU MPhil-PhD in Cinema Studies offer as a back-up in case I got rejected by the EACEA). So it's basically an European Joint Doctorate (EPJD) which will be awarded to me in 3 years by the EACEA and jointly by the Canterbury-Prague-Porto-Berlin University Consortium, and be fully-funded by their Erasmus MundusFellowship. During the course of this joint doctorate I will get a 6 month work placement either at Shakespeare's Globe theater or any similar socio-culture institution in Prague. Finally the EACEA is paying for everything...insurance, tuition, travel-costs between Universities in Prague-Porto-Canterbury-Berlin, living-costs, potential "paternity leaves" and there's even some "pension fund".
Doscos in the Hello Magazine Men's Special July 2014
Congratulations to many Doscos who feature in this edition of Hello Magazine. The group is lead by the school's Chairman, Mr Gautam Thapar.
Dosco and his wife featured in Vogue, July-August 2014
Dosco Sandeep Khosla and his wife Tania are interviewed this month about their professional partnership as architects. The school is delighted to see that it was acknowledged in the article.
Only interviewee to mention his school: Old Boy featured in Harpers Bazaar's 5th anniversary edition 2014
The school was pleased to see Old Boy, school soccer captain and Tata House boy Maharaj Kumar Suryajit Singh featured in the article about royal families in India. 
We are particularly delighted to see that Suryajit acknowledged his school, The Doon School as the other interviewees did not talk about their schools.
'Kwal Toffs' win the day at Prize Giving 2014
Mr Man Mohan Ghai was the Guest Speaker at the 2014 Prize Giving event.  Mr Man Mohan Ghai a past pupil from the class of 1955. Mr Man Mohan Ghai spoke of his memories of leaving school and his life at St Stephen's College Delhi and then his postgraduate degree at Cornell. He told a packed Rose Bowl of almost two thousand people, that the boys must make the most of all of the opportunities that they have in school and when they leave at university and beyond. Mr Man Mohan Ghai's family is perhaps best known for its hugely successful sweet kwality toffees which are still sold in Derhadun and which are most celebrated by the old boy community. This annual event celebrated achievement and effort prizes as well as wider cups and awards in celebration of achievement across all areas of the curriculum including the highly sought after  award  for School Colours.
The Headmaster's award for the most outstanding contribution for 2013 was awarded to Samarjit Singh who led India's shooting team at the opening ceremony of the Asian Games and has just completed his Class 10 board exams.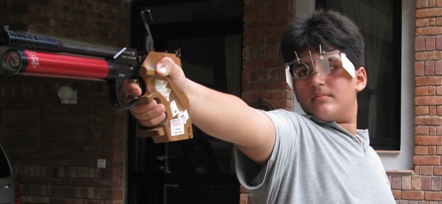 Spring Launch of Chandbagh, the School Development Office's Newsletter
Summer at Doon
Please click here for the details:
Brian Lara plays for The Doon School against IMA
As part of the IMA's support to create funds for the devastation in Uttarkashi, caused by the floods in June, Brian Lara played with the school's 1st X1 against the IMA. The event was organized by old boy and parent Dr Alok Ahuja and old boy Rakesh Goswami. Dr Ahuja is the President of the IMA Derhadun. On 3rd October, the school team played against the Abhimanyu Cricket Academy. Brian Lara had also visited the school to an enthusiastic crowd of boys who welcomed him to lunch and a tour of the school.  
The school team lost the match by 4 wickets but Kabir Sethi, from Hyderabad House and the school cricket captain opened the batting with Brian Lara, which for any player was a once in a life time opportunity. Brian Lara scored 69 and Kabir Sethi scored 36 not out and took 2 wickets. Kabir was awarded 'Man of the Match'. 
 The UK Doscent Trust joins industry standards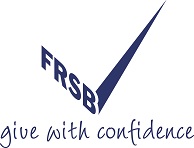 The UK chapter of The Doon School, the Doscent Trust has become a member of the fundraising association the Fund Raising Standards Board (FRSB). For more information please view www.frsb.org.uk
The association provides industry standards and a code of practice to organizations which have a fundraising arm. The school is very grateful to the Doscent Trust led by Ravi Bulchandani and Sharad Rathke who have spear head this professional approach to fundraising in the UK. 
Please click here for Certificate  
School mini-prospectus has arrived
The school is delighted to announce the arrival of the publication of its mini prospectus which was published at the end of August 2013. The school's full prospectus which is a new publication is currently nearing the end of its production and will be dispatched to prospective parents.
For all admissions enquiries including full details of how to arrange a visit to the school, meet the Headmaster, together with the full admissions and scholarship application process please contact the Head of Admissions, Mr Madan Kothari on email: This e-mail address is being protected from spambots. You need JavaScript enabled to view it
Mr Kothari can also be contacted directly on : +91 135 2526406.
Please note that office hours in term time are:
Monday – Friday: 9am-5pm
Saturday: 9am – 1pm
School Holidays: The admissions office is open Monday-Friday.
Doscos visit HKU and HKUST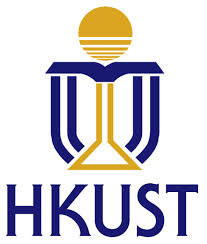 S and Sc form visited Hong Kong in June 2013 as part of a joint initiative between the Accounts, Commerce and Economics Department and the Careers Information, Education and Guidance Department.
The purpose of the trip was to give boys firsthand opportunity to experience life at Hong Kong Universities and the working of financial institutions and Commercial Centre's. The trip included a campus tour of Hong Kong University of Science and Technology (HKUST) and Hong Kong University (HKU). During the campus visits, the boys got an opportunity to attend lectures and meet the admissions offices of both universities. The boys also visited HSBC Bank and attended a talk on future growth in banking and other sectors. The trip also included meeting with a number of old boys who are part of the Hong Kong Chapter as well as visits to popular locations in Hong Kong.  
Old Boy and Lok Sabha member talks at Doon
Old boy and former Lok Sabha member Mr Dushyant Singh gave a talk to the boys on Sunday May 12th titled Foreign Direct Investment in the retail sector in India.
 An interesting and topical discussion took place with particular interest to the large numbers of boys studying economics and business.
Latest Chandbagh now published
The Development Office's next edition of its recently launched communication tool called Chandbagh is now available. Please contact the Development Office on  This e-mail address is being protected from spambots. You need JavaScript enabled to view it  for more details.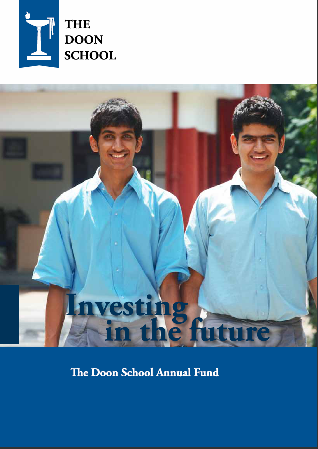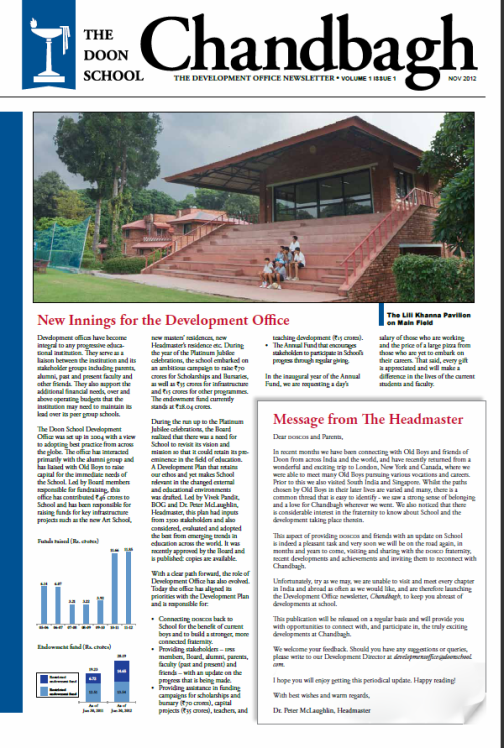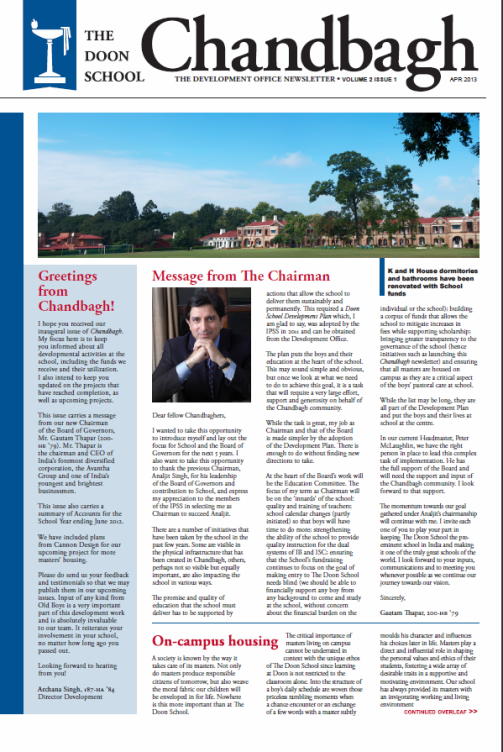 Tata House boy appointed School Captain 2013
Congratulations go to Siddarth Sethi who has been elected School Captain for 2013. Siddarth is currently preparing to apply to the first class universities in the US to study Finance and Business.
Siddarth has combined a very strong academic profile with his love of sport and his interest in the finance aspect of social service project. He gained an ISCE average of 94.6% and has played squash in the Nationals in 2011. His love of sport has also seen him win the IPSC bronze medal for squash in 2011 and 2012, a silver medal in IPSC badminton tournament in 2008-2011 and a silver medal in the District Athletics meet in the 400 metres in 2011.
Siddarth has played in the school teams for cricket, badminton, hockey and athletics and squash.
He is the finance officer for the Micro Finance Project, one of the many School's social service projects.
Siddarth is one of a pair of twins in School. Kabir his brother, is in Hyderabad House is also a prefect and Siddarth and Kabir's father Mr Sethi is an Old Boy of the School. 
Old Boy wins another award
Congratulation to Mr Analjit Singh, Chairman of Max India Limited was awarded yet another award on 16th January 2013. He was one of only two winners of the Pride of Nation awards given by the Doon Council, in the presence of the Chief Minister. Mr Singh was awarded the Padma Bhushan in 2011.
 Ruskin Bond releases book July 2012

Author Ruskin Bond was the guest of honour at the launch of Birding in the Doon Valley  co-authored by Dosco, Suniti Bhushan Datta.The book aims to be a reference work and is the first of its type for the region.
Jaipur House continues its march to academic success  in 2012

Congratulations to Jaipur House for producing the ISC topper in 2012, Raghav Puri is off to his first choice college, SRCC in Delhi as well as Nipun Batra's scholarship to read Natural Sciences and who has a  place at NUS. 
 Old Boy Opens Hospital
Mr Analjit Singh ex Jaipur House and Chairman of the Board of Governors opened a new hospital in Derhadun on May 25th 2012. Max Health Care's hospital will provide the city with world class facilities only 15mins drive away from School.
The School choir sang at the opening ceremony.
Chairman of Governors and Ernst and Young Entrepreneur of the Year 2011

 
The school is delighted to announce that the Chairman of Governors, Mr Analjit Singh has been selected to the final fourteen of Ernst and Young's Entrepreneur of the Year for 2011.
This is the only global award to honour entrepreneurship. Ernest and Young began this award thirteen years ago and was established to encourage India's best visionary leaders.
Mr Singh, from Jaipur House, is the Chairman of Max India Group. The country winner will represent India at the Ernst & Young World Entrepreneur of the Year Award (WEOY) in Monte Carlo on 10 June, 2012.
"We deeply value the role of entrepreneurs and our commitment to help entrepreneurs succeed is something which motivates us each day. Over the years, our Entrepreneur Of The Year program has mirrored the emergence of Indian enterprise on the global stage. Our finalists are drawn from different parts of the country, but each one of them has demonstrated an ability to boldly venture into uncharted territory, overcome the odds with their courage and conviction and contributed very significantly to India's emerging entrepreneurial ethos. This is what sets them apart as visionaries of the universe," says Farokh Balsara, Partner and EOY India Programme Leader.

The winners join the ranks of legendary business leaders and award recipients such as N.R Narayana Murthy (Infosys), Ratan Tata (Tata Group), Mukesh D Ambani (Reliance), Sunil Bharti Mittal (Bharti Group), Kumar Mangalam Birla (Aditya Birla Group), Subhash Chandra (Zee Telefilms), Anil Agarwal (Vedanta), Tulsi Tanti (Suzlon), Anand Mahindra (M&M) and Dilip Shanghvi (Sun Pharmaceuticals).
 President's Police Medal Awarded to Dosco

Congratulations to Abhinav Kumar (ex289 Tata House 1991) for receiving the President's Police Medal for 'Meritorious Services' on Republic Day.
Mr Kumar is currently the  DIG CID Uttarakhand Police.
Dalai Lama graces the Doon School 
The Doon School celebrated its seventy-sixth Founders celebration with its Chief Guest the Tibetan Spiritual Leader the Dalia Lama. The Dalai Lama, answered questions from the boys. Issues raised including dealing with anger, the issue of corruption and the ability to balance an individual's aspiration versus the aspirations of society. 'It is better to be wise and selfish, rather than being foolish and selfish' he told the audience of over two thousand boys, parents, past pupils and guests. 'Twenty years from now, I may be in heaven or hell, but I will be watching you', the Dalai Lama told the boys and 'be truthful and honest and avoid being self-centred. The best way is to fulfil your own interest is to work of the well being of others'.
The Dalai Lama also addressed 4,000 members of the Tibetan community in the school, before his departure to Delhi and then onward to Japan.
 
 Founders Programme 2011: Superb Performing Arts and Music Concerts
Over two thousand boys, parents, past pupils and guests attended a programme of events which included exhibition sports matches, a concert by the Music Society in the Music School and an exhibition in the Design and Technology Department.
There was also the first performance of the well known playwright Asghar Wajahat's play This e-mail address is being protected from spambots. You need JavaScript enabled to view it in the Art and Media School's auditorium. It was the first performance in India. 
Jesus Christ Superstar: The rock opera that rocked!
The Rose Bowl was the venue for this year's Founder's major performance. Lord Andrew Lloyd Webber and Sir Tim Rice's production of Jesus Christ Superstar opened on Broadway, just over thirty years ago. This exciting, but challenging rock opera was performed for three nights including a schools' performance. A moving interpretation was given by Karan Singh as Jesus and the orchestra and choir (with many boys in D, C and B form) were conducted by the Director of Music, Mrs Chaturvedi. The musical was directed by Arjun Rao. All three performances were given a standing ovation. The school looks forward to more musicals productions in the future.
  Founders Programme 2011: Pavan Vaish Trophy Room unveiled
The school offered a second highly creative exhibition of art work in the school's Art and Media School. Sculpture, ceramics and painting were on display from boys across all age groups, including the ICSE and ISC and IB public examination exhibition.

The school is most fortunate to have professional artists as part of the Art and Media School staff. The Headmaster and Head of the Art and Media School, were delighted to inaugurate a new Trophy Room, given by Pavan Vaish, an Old Boy and member of the Class of 86. His generosity has enabled the school to have two hundred of its trophies visible to all. The school is most grateful to him for his support in this venture.
 Founders 2011: Tata House celebrates its Platinum Jubilee on 28th October 2011
Tata House Old Boys will celebrate the House's Platiumun Jubilee with a High Tea at 4.15pm.
There will be a Tata House Platinum Jubilee Dinner at the Hotel Pacific, at 8.30pm.
 Founders 2011: Opening of the Kashmir House Photographs on 29th October 2011
Chief Guest: Oldest Old Boy in Dehradun: Mr Anant Ram Iyer 250 K(1939 Batch)
K House will also sell two pieces of memorabilia. One is a plate which has the Kashmir House design and the Doon School and House logo. The other is a pair of coffee mugs with the same design. The entire proceeds will go in developing a House library.
A Kashmir House sketch will be released made by Alawi Singh (576-K)
A CD containing all photographs will be gifted to all present for this occasion.
Union Minister Shri Jyotiraditya Madhavrao Scindia opens DSMUN 2011
Parent and Old Boy Mr Jyotiraditya Madhavroa Scindia, opened DMSUN 2011 on Friday 19th August. Twenty schools, represented by nearly two hundred delegates from all over India, as well as from Jordan and Dubai, arrived for DSMUN 2011 on Thursday and Friday 18th and 19th August. More news soon…
'Star Struck' Dosco talks to Times of India
Jayant Mukhopadhyay, who left school in May, was featured in The Education Times, a weekly supplement published with The Times of India. Jayant, from Hyderabad House, was interviewed for an article about studying in the USA. He spoke of Doon as a great teacher because it was a boarding school that provided him with an all-round education that stimulated his mind in the fields of sport, debating and music. His interest in space led him to the study of rockets. Armed with his IB diploma of 39 points, Jayant is heading to Ivy League college Cornell to read mechanical engineering with a minor in aeronautical engineering. He follows his elder brother to the US. His father is also an Old Boy of Doon. He will be sharing a room with the School Captain from 2010 and winner of the Tata scholarship to Cornell, fellow class-mate Arnav Sahu.  
Old Boy Anish Kapoor's first exhibition in India

Anish Kapoor, one of the world's most successful sculptors, exhibited for the first time in India in November- January 2011 and his works were on view at shows in Delhi and Mumbai. His latest exhibition is currently on in Paris.  Anish Kapoor's gigantic, lndmark sculpture will grace the environs of the London Olympic Stadium in 2012 and promises to become a new Eiffel Tower.
Mr Manpreet Badal, speaks at Doon, March 2011

Mr Manpreet Badal, an old boy of Tata House and former Finance Minister of the Punjab, addressed the school and spoke of the number of scams, the food inflation crisis, poverty and the absuse of power that posed serious challenges to India's politicians, in his address  'Building a Modern India'. Mr Badal encouraged the boys and guests to become involved and to take an interest in politics for the sake of the nation's future.
Chairman of the Board awarded Padma Bhushan

The school community was delighted by the announcement on Republic Day of one  the President's highest awards for civilians to The Doon School Chairman of the Board of Governors, Mr Analjit Singh. The President awarded the Padma Bhushan to Mr Singh for his services to Trade and Industry in India.  The Doon School is delighted to have such a distinguished Dosco as Chairman of Governors.
Third generation of the Khanna family elected School Captain, February 2011

The Khanna clan has produced a third generation School Captain at The Doon School. The current School Captain, Vihan Khanna from Hyderabad House, grandson of Mr B.N. Khanna and Mrs Shila Khanna, is studying the IB and will be applying to top US colleges. In addition to three generations of School Captains, the family has also produced many House Captains. Each generation's School Captain was born in a different country, successively Pakistan, India and the United States.
---
The Doon School is not connected in any way with any other school that has Doon in its name.
The Doon School does not have any other branches.