At The Doon School, we are committed to preparing our students for success beyond graduation. The Careers Information, Education and Guidance Department is one of the most dynamic and forward thinking academic departments in the school. Our college counselling program provides students with guidance and support starting from C form (Class 8). We believe that every student has the potential to achieve their goals and aspirations, and the department's work and the curriculum has been designed to compliment, support and interweave with the academic life of the school as well as the wider aspects of the broad and balanced curriculum on offer to all students.
The college counsellors possess extensive experience and remain updated with the latest developments and trends in the realm of college admissions. Consequently, they serve as valuable resources capable of providing solutions or finding answers to any query that may arise during the application process. The college advisors are available to provide support and assistance to all high school students in their pursuit of a successful college journey.The college advisors are available to assist every high school student in their pursuit of success in the journey to college.
University Entrance Preparation Support
We would also like to highlight the support students have access through the careers department for various entrance preparation during their high school journey at Doon:
The school is a PSAT, SAT, ACT and TOFEL and Oxbridge exam center. All students sit the PSAT examination in A form. (Class 10). The results provide a good base knowledge of each boy's strengths and weaknesses in these critical skill areas.
Curriculum and Subject Selection – One of the most important decisions that the C form students will make is choosing their curriculum and subjects for high school. The subjects they choose will determine their academic trajectory, so it is important to choose wisely. Our counsellors at school will guide them in making these decisions by providing them with information about different subjects and their relevance to potential careers.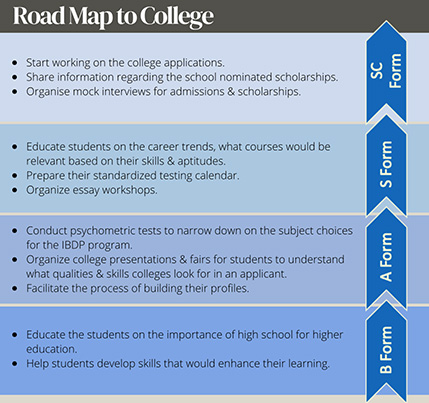 B form is all about exploring—understanding and getting involved. Make the most of your academic opportunities. Explore and get involved with activities, both in and out of school.The B form counselling curriculum also looks at the preparation of CV, the importance of building a solid academic profile, together with differing professional options and career opportunities.
The college counselling for grade 10 students is to help them navigate the complex process of college planning and application, and ensure they are prepared to make informed decisions about their future.
A form students will be guided on career planning through a series of lessons. These lessons aim to assist students in comprehending their aptitudes, interests, and personality, and connecting them to potential careers and subject choices.This process will also involve the administration of a psychometric test in a specific format.
The career counselling lessons will help them build researching skills and understand how and where to look for information regarding careers and colleges. The lessons will help students understand what the colleges look for in various countries. The lessons will also help them to realize how the co-curricular programme links with the choice of subjects, colleges and careers
'Work Experience' in A Form will help students understand skills required in each job. They are encouraged to attend the numerous careers fairs and university and college talks that take place throughout the academic year.The careers department will help students with the summer schools applications and academic online courses research and application.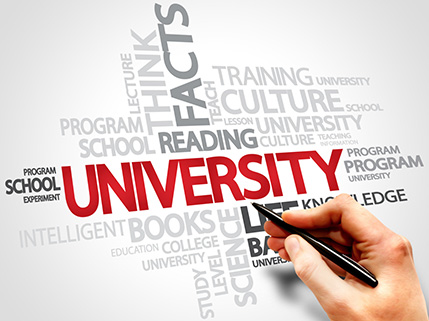 Careers lessons focus on the relation of aptitudes and skills with career options and help students choose the right course at college. Students are taught to make an effective use of information collated through their research by maintaining their own 'research-excel sheets'. The importance of transcripts and 'going beyond' the syllabus for admission to top colleges and universities world- wide is emphasized, and students are encouraged to take up academic online courses and attend summer schools.
Feedback from past pupils of the school is also shared to help students better for their futures. The SAT, ACT and other college entrance exam preparation begins in S form. Students are encouraged to attend careers talks and college and university fairs to gain a better understanding of the application process and get first-hand information about the culture and environment of different colleges and universities. The Careers department also extends guidance and support to students and their parents with regard to financial planning, to meet the costs of attendance at colleges across India and abroad, by giving out information on scholarships and bursaries.
In the SC Form, students are given personalised attention through individual meetings with members of the Careers department. The department members help them to draw up their own college and university lists and course options and provide each boy with a step-by-step guidance programme through every stage of the application process. They are also provided a close guidance in writing their SOPs and college admission essays and ongoing support for their CV building, work experience and SAT and ACT preparation as well as other specific additional tests required for the diverse range of courses and universities the students apply to each year. Much of the curriculum also focuses upon postgraduate opportunities and the global world of work, trends and how they can support each boy's planning process.
In S and SC form, much time and attention is given to one-on- one guidance with students and their parents. The department also supports students and their parents once their examination results are out and this is particularly critical for those students applying with their results to universities in India.